sugar skulls ARE HERE!
We LOVE decorating sugar skulls, and making altars to honor our dearly departed. learn about the cross cultural celebration of the Mexican Day of the Dead, Dia de los Muertos, an amalgam of ancient European, Catholic and Indigenous traditions practiced by the people of Mexico.
Quantities are Limited!
Making the skulls and colored icings at the Village Art Room is a blast. And messy and time consuming, so supplies are limited! If you want a skull, reserve it now at one of the following events:
Altar and Sugar Skull Workshop:
Learn about this ancient practice, with roots in Europe and the Americas, of honoring our dearly departed. Make a small altar to take home and decorate a sugar skull to adorn it. You may want to start a new family tradition! Columbus/Indigenous Peoples Day, October 14th, 1 pm to 4 pm. All supplies included, $80 Sign up here
Happy Art Hours with Sugar Skulls:
October 17th, 7 to 9:30. Unwind from your day, while enjoying a creative, evening. Bring a friend or make new ones, enjoy some drinks and nibbles, while learning about the multicultural celebration of the dearly departed: Day of the Dead, or Dia de los Muertos. AND decorate a sugar skull to take home with colored icings and beads. $45 Reserve here.
Sugar skull Drop-in Studio Time for kids and adults
Sunday the 27th, 1 to 4, One sugar skull per person, colored icings and baubles for decorating. Learn about this ancient, creative tradition of honoring the dearly departed. $25 each. RESERVE YOUR SUGAR SKULL NOW. We may have some left that day, but we may not. If you want to be sure to have a skull to decorate, sign up on line. Free if you accompanying someone who is decorating a skull. Come enjoy the ambiance!
Creative Gatherings and Birthday Parties
Bring a group of friends and munchies to the Art Room, 2.5 hours. $300 for up to 10 people, $25 each additional person, up to 18. One sugar skull each. Full range of icing colors and our deluxe bead and findings collection, and an intro to this ancient tradition. CALL SOON, WHILE SUPPLIES LAST to arrange a date during the month of October, e.g. Friday nights, Sunday afternoons. Write to hello@villageartroom to arrange.
Community Art
It takes a Village to make a Village. It is our mission at the Village Art Room to strengthen the local and extended community of West Concord through the making of creative works. We do this by collaborating with local businesses, and with social service organizations in making public art that engages community members in its execution, and that enhances the community through its message and its aesthetic appeal.
We will always have a community art project that anyone can contribute to during our Open Studio Drop-in Times.
Artists Create Change Together, ACCT: We support the Musketaquid Arts and Environment at the Umbrella Community Art Center with a monthly meeting of artists who paint banners for social action events and non-profits. Contact us if you would like to help paint them, or if your organization would like to commission a banner.
ART Jam
Stay tuned for more ART JAM sessions this fall or winter.
Bring friends and family. All ages invited to attend. Relax, make some art, enjoy some music and good company. This is free! Sponsored by Three Stones Gallery. We provide supplies and drawing projects. There is always a community art project that you can contribute to, as well as artist trading cards, coloring cards.
Open Studio Times
You don't have to be an artist to enjoy playing with art supplies! We have projects to suit everyone, whether "artistic" or not: make a stamp, paint your sneakers, make a pop-up card, use collage supplies to make your portrait, or a greeting card. The possibilities are nearly endless. You will find a pleasant, sunny studio and welcoming art coaches who will guide you in the project of the day, or give you a tour of the supplies and projects that are available at any time.
We have Drop In Times for kids 6 and up, for teens and adults. Check out the schedule on our calendar.
Pay at the Village Art Room with cash, check credit or credit card. The cost is $20 for up to 2 hours or $16 for up to 2 hours when you purchase a $100 Creative Currency Card. This includes supplies for most projects.
What We Offer
DRAWING
PAINTING
COLLAGE
ART JAM
Parties
ARTISTS CREATE CHANGE TOGETHER
.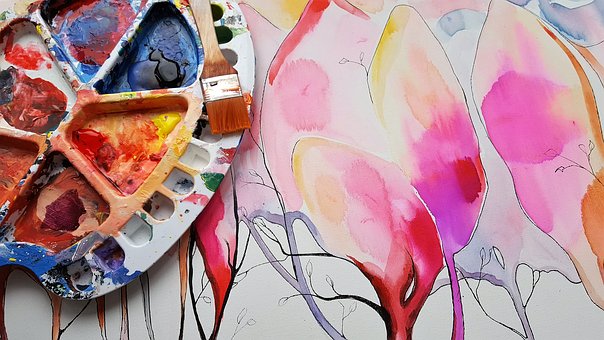 Independent Studio Time
Independent work time for your on-going projects. Inquire about studio availability.
Our mission
To bring joy and vitality to the local community through the making of creative works, while lightening our impact on the environment by sharing resources.
We believe that
The following is vital to the health and happiness of individuals and of society:
Real face to face, not just virtual, community
The making and experiencing of creative work
The sharing of resources, both for forming the bonds of community, and to lighten our impact on the environment.
our goals
Developing an art-making space and both personal and community art-making programs that are affordable to many
Using, when possible, donated and recycled materials and equipment
Collaborating with local businesses to create connections with the community
Enriching our community spaces with creative works